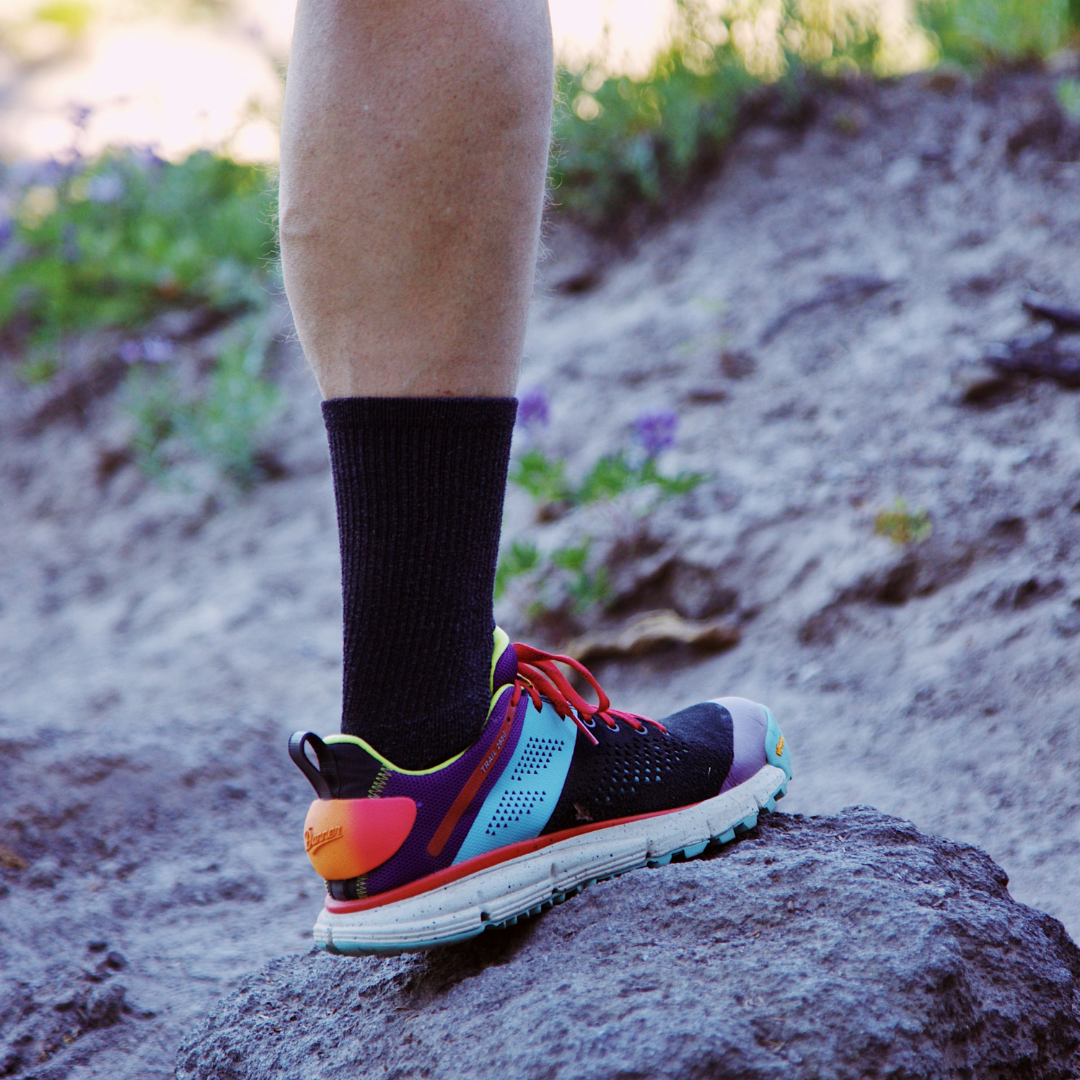 Best Hiking Underwear for Men in 2023
We are fortunate enough in the UK to live in a very 'green and pleasant land' with a lot to offer in terms of countryside romps and mountainous terrain to hike. Indeed, with the pandemic easing, now is a better time than ever to slip your boots on and take to the countryside for a good old-fashioned hike. 
But we don't want to send you off into the wilderness ill-equipped, do we? At Pants & Socks, we not only care about your overall well-being, but also the comfort of all your moving parts. The last thing we want is for you to be struck down with chafing. Or, perhaps worse, have your package so constricted and uncomfortable that you must seek refuge in the nearest bothy and nurse it all back to health.
Perhaps we're being a little dramatic, but you still want to make sure that you're wearing the right pants for the job in any situation - and hiking is absolutely no exception to this rule. 
To ensure that your underwear is up to the arduous task of a long hike - that you have the best underwear for a long walk - you'll want underwear that is lightweight, absorbent, resilient, supportive, sweat wicking, and prevents chafing… everything that good day-to-day underwear should be AND MORE. They need to be up to the challenge, same as you!
Furthermore, if you are looking for the best underwear for backpacking, you'll find this list works as well. If you are travelling light and washing as you go, you'll find all these pants can be washed and should dry overnight.
With that in mind, read on to discover our Pantsman's very best recommendations for the hiking, camping, and general outdoorsman underwear you should be wearing.
Our best men's underwear for hiking
Derek Rose Jack Hipster
Most comfortable underwear for hiking
Derek Rose is a British brand known for its commitment to quality. This means that their Jack Hipsters are just about the softest and most comfortable pair of pants on this list and should keep you feeling coddled and cuddled even up Scafell Pike.
The understated design and closed front is perfect for preventing chafing and keeping everything nicely tucked away. But, the coup de grâce is their blend of pima cotton and elastane (92:8%) which makes them stretchy and durable whilst remaining softer than a lamb in spring on a bed of goose down. 
They'll keep you well-supported all day, will absorb any sweat that comes their way, and will feel so comfortable against your body that you'll have the feeling of being in a 5 star spa, even while you're lost in the back end of beyond. 
They're one of the more premium pairs of pants on this list at £32 per pair. But boy, are they worth it for that extra touch of luxury and comfort that can't be beaten.
SAXX Undercover Trunk Fly
Most supportive underwear for hiking
These are some excellent quality trunks that SAXX takes immense pride in. They're engineered for an amazingly soft feel, achieved by their modal cotton blended fabric - and they're some damn supportive undies as well. They're one of our top picks on this list. 
Modal cotton is far better than standard cotton for wicking moisture and, thus, preventing chafing. Moreover, modal is incredibly soft and lightweight, so anyone who finds synthetic fabrics to be a bit of an irritant is safe with these. They basically act like a second skin, which is perfect for a long day up a mountain.  
Though it may be a little inconvenient in certain situations, the fact that SAXX has chosen to do away with the fly on these trunks is actually great for their supportive properties. Everything will be closely packed in (not uncomfortably so - be sure to consult our underwear sizing guide if you need help in choosing the correct size for these) and well-supported all day. 
Oh, and before we forget, these trunks are slim fit in style, so are designed to fit snugly around your thighs to prevent bunching and provide even more support that extends to your legs as well. Again, just make sure to consult the sizing guides and, if you're straddling 2 sizes, pick the larger size for these pants.
In all, SAXX Undercover trunks are an excellent choice of trunk for your everyday pursuits and are tough enough to handle virtually anything you throw at them. They're a relatively high price point, but you get what you pay for, right? They'll stand you in good stead uphill and down dale and are an excellent choice for you hiking aficionados who are concerned about support for your prized jewels. 
HOM HO1 Boxer Brief
Best sweat-wicking underwear for hiking
As with the above offering from Derek Rose, the key to the success of these boxer briefs from HOM is their material: modal cotton. 
Modal cotton is one of the softest materials around. Don't believe us? Pick up some of these pants and see for yourself just how soft they are! But, the benefits of modal cotton don't stop there. 
Modal is superior in almost every way - the HO1 innovative fly makes these pants suitable for both right and left handed and the cotton is breathable and absorbent, so you can say goodbye to any excess sweat between your legs that might cause discomfort on a lengthy hike in the wilderness. 
They reduce friction, resist shrinking, are super duper soft, and are very lightweight. They're great pants for hiking and come with a seal of approval from us.
Jockey Microfiber Active Boxer Trunk
Best chafe-resistant underwear for hiking
These Microfiber Active Boxer Trunks by Jockey are a great addition to your underwear drawer, particularly if you're a sportsman or outdoorsman because boy oh boy, are they just great at chafe prevention.
They're made from a synthetic microfiber, which makes them ideal as a sporting boxer brief that prevents chafing. They're very soft, exceedingly durable, and were designed with active support and comfort in mind - perfect for taking into the wilderness on a long hike that could last for hours!
The microfiber material is also designed to wick sweat - perfect when you're out in the wilds and amazing for chafe prevention. This is especially in a longer pair of pants where chafing is a risk due to material bunching up the legs. The microfiber is breathable and durable as well, so it'll keep you cool, dry, and smelling fine (due to its antibacterial properties) - we don't want you attracting any hungry predators with your pungent hiking scent, do we? 
They'll keep you fresh and chafe-free all day no matter what you're up to, which makes them a versatile addition to your underwear drawer even if you're only up for short hikes or prefer the gym to the outdoor life. And at just £26 for a pair, they're great value as well.
Panos Emporio Base Bamboo and Organic Cotton Boxer 
Best all-round underwear for hiking
Panos Emporio has outdone itself with its boxers here, making them our pick for best all-round hiking pants. 
As before, the secret to their success is all in the construction material: bamboo. 
The blend of organic cotton and bamboo in these boxers has several benefits that make them amazing pants to hike in. Firstly, they're extremely soft and light - you'll barely notice you're wearing them. Next, the organic fibers are naturally breathable and have moisture-wicking properties, so sweaty discomfort will be greatly reduced. Thirdly, the material is arranged in an 'anatomic fit' composed of 7 panels that fit around your muscles and move with you, affording you excellent range of motion - perfect for hiking. Finally, bamboo has antimicrobial properties, so any sweat that somehow isn't wicked away won't cause a stink and you'll be left feeling fresher for longer. 
Now, that's a long list of benefits right there - and covers pretty much anything a hiker could look for in a pair of pants. It's easy to see why these are our best all-round picks. 
Oh, and if that wasn't enough: because of the organic cotton and bamboo composition, you'll be doing your part for the environment that you love hiking in as well! Bamboo is one of the most sustainable materials from which to produce clothing, so you'll be providing an environmental service by wearing these. 
You cannot lose.
So what men's underwear is best for hiking?
So, it's easy to see what makes the pants on this list great for hikers. They all combine key elements in their design and materials that'll make hiking that much more comfortable and give you a more enjoyable experience. 
If you need that extra bit of support, choose SAXX. If you're after something that's lightweight and will keep you drier for longer, go with HOM. If you find chafing ruins your longer excursions, Jockey will sort that out for you, while Derek Rose should keep you feeling super comfortable all day long and beyond. 
And, of course, you should check out Panos Emporio for a succinct combo of everything a hiker needs. 
Don't forget to check out our sizing guide if you need help choosing the right fit for your underwear as this will only increase your comfort and shouldn't be overlooked. Otherwise, feel free to browse our full range of men's pants if you haven't found quite what you're after in this article. 
Now that you should be well informed as to your underwear needs, it's time to pull on your best, step into your boots and hit the trails in comfort!