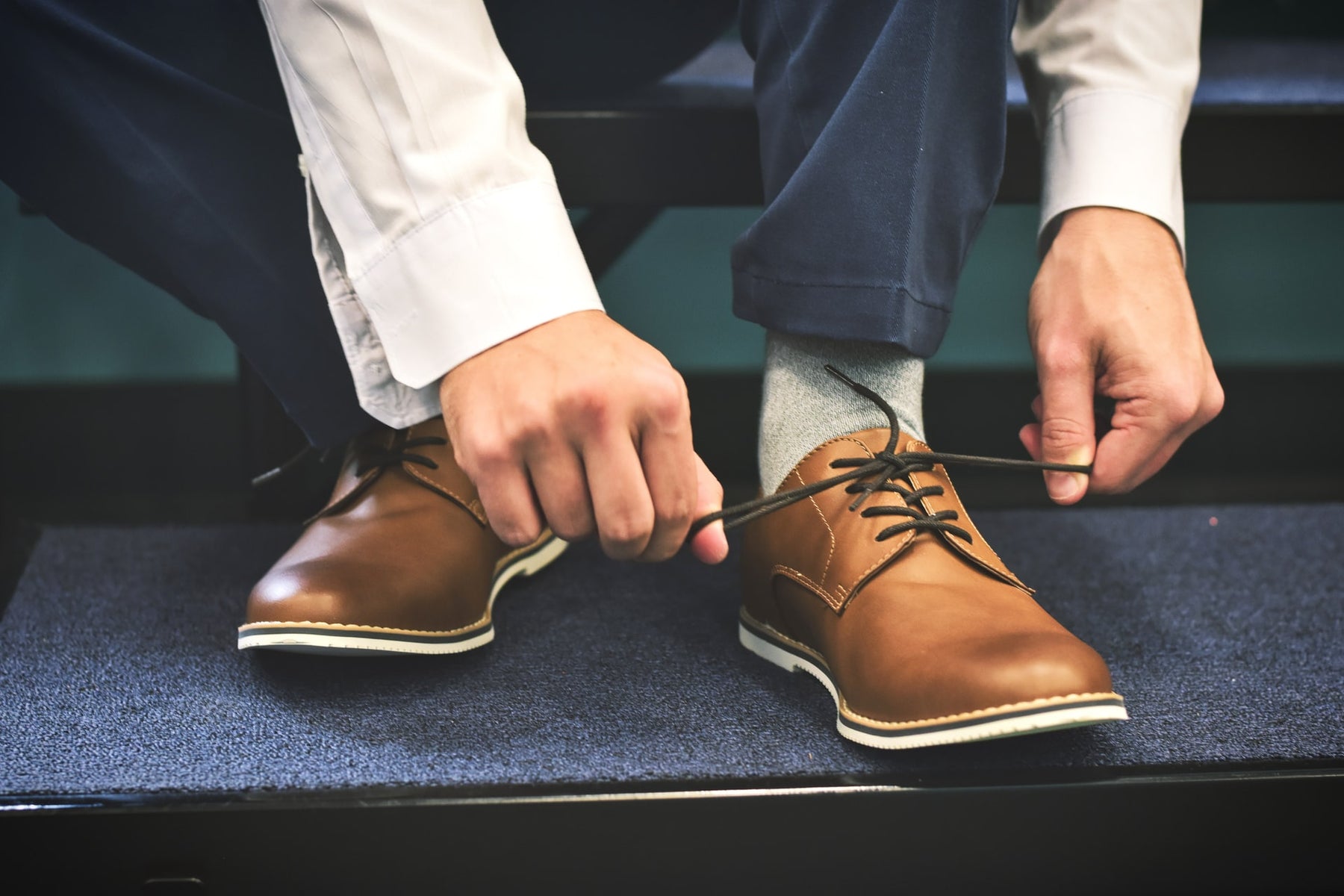 What Socks to Wear with Brown Shoes
Once upon a time, brown shoes were frowned upon unless paired with tweed or some other "casual" outfit - perhaps beige twill trousers, or even corduroy. "Never brown in town" was the standard refrain. You never wore brown shoes with a suit.
Fast forward fifty years and brown shoes have become the 'safe' choice. They are so versatile. They can be worn with almost any item in a man's wardrobe. Today, you cannot go wrong with a stylish pair of brown shoes.
But still, the question remains: "What socks should you wear with brown shoes?" It's important to get it right. Get it wrong and you could ruin your whole outfit. So, read on and we'll delve into our bottomless drawer of sock-knowledge to bring you the very best recommendations we have for socks to pair with your brown shoes. 
Choosing socks to wear with brown shoes
Now, since there's really only ONE hard and fast rule to stick to regarding brown shoes, we'll put it right here for all to see: don't pair brown with black. This goes for trousers. This goes for suits. And yes, this goes for socks. Brown and black just do not mix - though we live in hope for the day that they can settle their differences. 
That said, there are subtle nuances at play in choosing the perfect sock for your brown shoes, so let's dive into these a bit more: 
Colour
Your shoes accent your clothing. We all know this - they're more than functional slabs that sit on your feet. And, when it comes to colour, contrast is king. 
We may not want black socks with our brown shoes, BUT, there are plenty of other options. Feel free to experiment with your colours here! In essence, it boils down to two choices: tone or contrast.
If you want to tone in with your shoes think dark blues, greys, greens and browns, even beige. And with dark brown shoes think about rich burgundy and deep purple. And of course, always think about the colour of your trouser, what tones in there? 
But for contrast think red and lighter blues, or patterns that pick up an element of your trouser - or even you top. A quick scroll through pantsandsocks.com will show a vast array of p[atterns, from classic checks and dots, to wackier stripers and geometrics. And in a wide range of colours.
Length
Length of sock is important to consider and depends on 2 factors:
Firstly: how high up your leg does your shoe go? Is it low slung? And secondly: how long are your trousers? Is your aim to show some sock or a beautifully turned ankle?
At the heart of this is the question: Do you want the shoe or sock to be the centre of attention. 
If your shoes are low slung or you hope to show off some flesh, we suggest you go with the no show or ankle socks - and these generally will be in a neutral colour. If you are looking to show your socks off a bit more we suggest you go with the trouser sock, which will sit mid-calf and give a suitably stylish splash of colour.
Style
Chances are that you're probably not wearing your smart brown shoes for sporting events. But should that stop you from pairing sports-style socks? Not if that's what you like! 
Indeed, brown shoes are (as we keep saying) so versatile, that almost any style of sock will suit them down to the ground. Some look better than others, sure - you probably don't want the thickest pair of wooly winter socks hulking over the lip of your brown shoes (unless of course they are sturdy leather country shoes).
Best socks to wear with brown shoes
Here we'll give our recommendations based on what we've discussed above. No need to go overboard here, just provide our very top picks for the different scenarios we've potentially discussed above.
If you're looking for a simple, minimalist, elegant white sock, then you're in the right place. 
We wouldn't advise wearing white socks in formal settings, but if you're going casual then white socks will be your brown shoes' best friends. 
They pair with jeans, shorts - almost any casual outfit you can think of. They contrast nicely with your brown shoes and accent your choice with a nice bit of contrast. 
On top of that, these are some heckin' comfortable socks! Made from organic cotton, these are soft as you like, kind to your feet - and kind to the environment while they're at it! Panos Emporio has put so much focus on this latter point, that they've even been awarded GOTS certification due to their positive ecological impact with these socks. 
Boat shoes and loafers are popular choices for men today - and brown is the colour of the day when choosing your first pair of boat shoes or loafers. 
That said, longer socks do not pair very well with either of these looks, so you want something that'll protect your feet and shoes, while staying out of sight. 
Enter the Tommy Hilfiger Iconic Footies. They're designed to slip over your foot and hide just below the lip of your shoes, hiding out of sight. We'd pick up the white pair just in case someone does catch a glimpse of them, but they're the perfect match for the boat shoe or loafer look - keep it casual and you won't go wrong. 
This is kind of a cheat option on our list today as, really, you could pick any pair from Happy Socks and be satisfied. 
Happy Socks are the reigning kings of fun and garish footwear. Their patterned socks are designed to put a smile on your face - and they do just that. 
Stay away from black base patterns with the brown shoes, but outside that, you can enjoy whichever pattern you like the most! Patterned socks are great for tying brown shoes into almost any outfit. They draw the eye, they provide intriguing colour combinations and they are just so much fun that you'll never want to take them off. 
Give them a whirl and enjoy the comments on your new Happy Socks. 
What socks will you wear?
Brown shoes are incredibly versatile, so almost any style, colour or length of sock pairs with them extremely well. 
Going for a casual look with brown shoes and jeans? Try some clean white socks by Panos Emporio. 
Don't want to walk barefoot in loafers or boat shoes? Then you should grab some Tommy Hilfiger Iconic no-shows. 
And if you're feeling funky and want a patterned sock to add a dash of clashing contrast to your outfit, grab some Happy Socks to put a smile on your face. 
Just remember the one golden rule: DON'T pair black socks with brown shoes. It simply doesn't work, as much as we all wish it would. 
For more top sock tips and tricks, make sure you stay up-to-date with our Below the Belt Blog. Otherwise, happy hunting and enjoy your versatile brown boys!