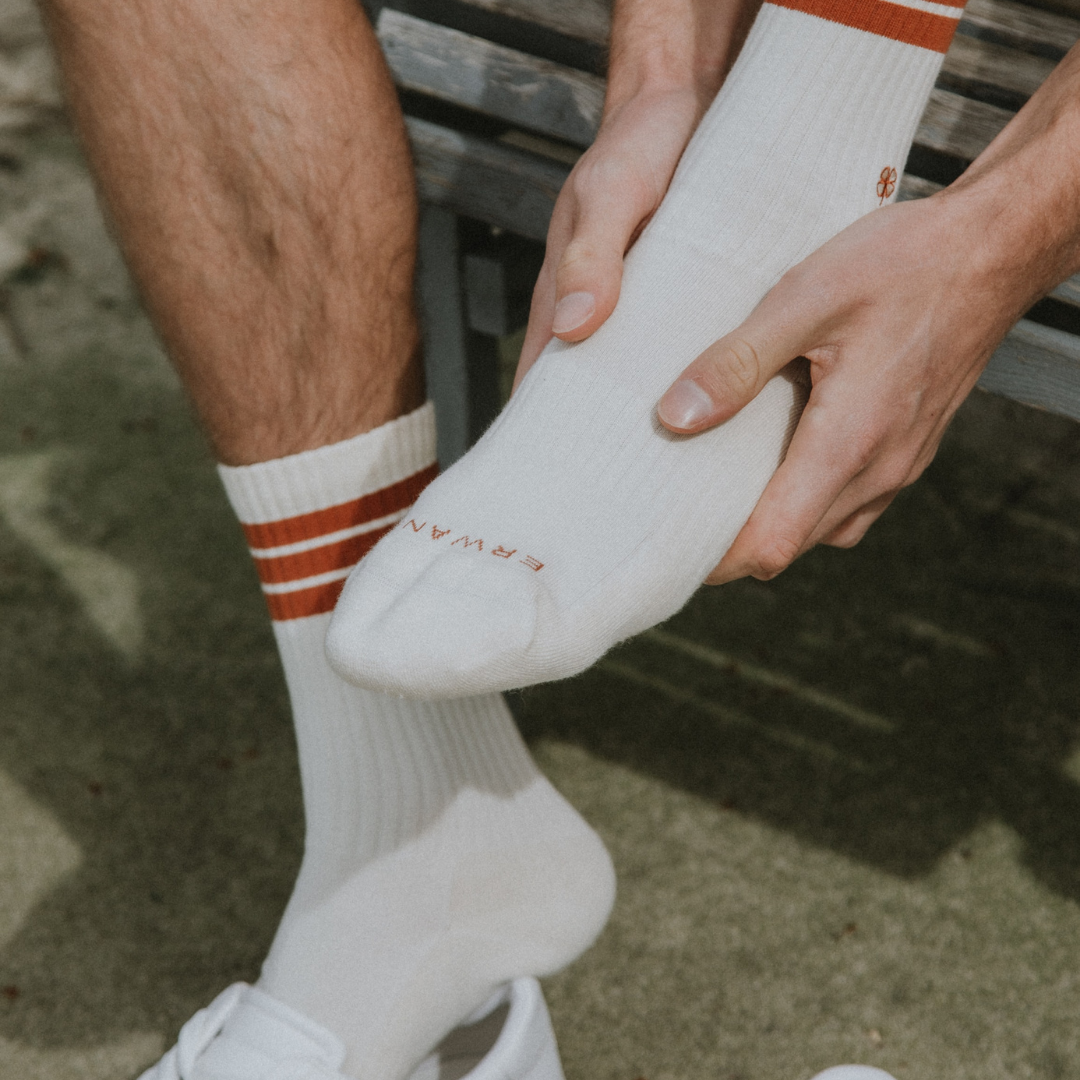 Best Socks for Sweaty Feet in 2022
Where there's heat, there's sweat… for most of us, anyway. In fact, there's often too much sweat. And, let's be honest here: too much sweat is just plain unpleasant. 
Yes, we may have been waiting a good long while for summer to rear its beautiful head, but warmer weather can wreak havoc on the hard-working feet of the unsuspecting gentleman. To that end, you need to ensure that you're ensuring you stock up on the best socks to don in order to keep sweat at bay. 
Now, this isn't as easy as it sounds. There's a few things to bear in mind when looking for the right sweat-fighting socks - and some of these are less obvious than others. 
First up, you want to make sure you're choosing the right style of sock for your endeavours. If you're just staying casual, then you can choose whatever you like best, but if you're pairing your socks with shorts or stylish shoes, you may want to rethink. 
Next, you want to ensure that you find the right fit for your socks. Now, we won't really be discussing fit here, but you can find out everything you need to know right here in our guide to men's sock sizes.
Finally - and most importantly - you want to make sure you pick the right sock material. Now, plain old cotton is reliable, but in terms of busting sweat, it just won't get the job done. You'll want to be on the lookout for wool, merino, nylon, polyester, bamboo, and other similar materials in order to get the sweat wicking properties that your feet need. 
So, without further ado, let's jump into our list of the best socks for sweaty feet. 
Our best men's socks for sweaty feet 
Tommy Hilfiger Iconic Socks
Athletic style for sweaty feet
Tommy Hilfiger knows socks. They're synonymous with quality menswear and that extends to this classic in an iconic style. 
These socks are cut at trouser length, come in 4 varieties of colour, are sports inspired, and come with a global stripe in the welt. But, naturally, that's not all!
They're fashioned in a soft combed cotton, which isn't a dealmaker on its own, but, combined with this athletic design, cushioned sole, and hand-linked toe stitching, you have a durable, yet breathable sock that is perfect when things get a little heated. 
The combination of material and design makes these socks a great choice for either sports or casual wear and an awesome choice if you find your feet getting a little sweaty.
Oh, and before we forget: there's an ankle length variant of this Iconic sock. Go nuts, gents!
Calvin Klein Drake Socks
Underwear-inspired ankle socks for sweaty feet
Ankle socks are great for when things heat up and the sweat starts to run. Their shorter style doesn't just make them ideal for pairing with shorts for the style-conscious, but their shorter style inherently equates to less material coverage and more exposed skin. Great for keeping cool. 
And Calvin Klein's Drakes are a great choice of ankle sock for staying cool (in both senses of the word). Their underwear-inspired design has the classic bold Calvin Klein branding emblazoned across the elastic cuff. Meanwhile, the material blend of soft cotton, elastane, and polyester is great for it's sweat wicking properties, its stretch, and durability. 
Add in just a dash of cushioned sole and you have some stylish ankle socks that won't quit as they keep your feet sweat-free.
BOSS Edward Socks
Bamboo socks for sweaty feet
We all know BOSS is synonymous with quality and their Edward Socks are the perfect choice to don if you find your feet are getting a little sweatier than usual. And there's a great reason why:bamboo. 
Crafted from bamboo fibers (an awesome material for socks especially) because of their moisture wicking and antimicrobial properties, these socks will keep your feet high, dry, and feeling super cool. 
Bamboo is super soft and durable for a comfortable, longer lasting fit. It's breathable and wicks moisture (i.e. sweat). Oh, and the antimicrobial properties also mean that any sweat that DOES somehow sneak through won't cause a stink, leaving you to enjoy fresher smelling, cooler feeling feet, whilst equipped with a reliable and stylish pair of socks.
Bamboo really is a wonder material - and it's very Eco-friendly, so you'll feel sweat and guilt free as you slap these on your feet!
Puma Footie Unisex Socks
Budget socks for sweaty feet
Need to stock up on some socks to pair with your shorts and keep you feeling super cool? Well, Puma takes it with these Footie socks that are the perfect socks to stay sweat-free on a budget.
At just £8 for a pack of 3, that's incredible value! But let's get into the nitty gritty.
They don't need to be flashy. No one's going to even see these socks! Less is definitely more when it comes to staying cool and sweatless in the heat - which is what makes no-show socks such a great choice. They can be paired with shorts and shoes of any style and definitely won't be drawing attention away from your choices of foot or legwear if fashionable style is your thing. You get all the heat-busting benefits of no-show socks, for a miniscule price tag, combined with the reliability you can expect from Puma.
Wear them how or when you like, they'll keep you sweat free on a budget.
Amazing value, right here.
FALKE Cool Kick Socks
Socks for sportsmen with sweaty feet
FALKE have all but perfected sock design. They're not a budget friendly choice, but these Cool Kicks socks attest to the fact that you can't compromise on price when it comes to quality. 
They're ankle socks, so naturally have all those juicy benefits of the style when it comes to beating sweat: minimal fabric coverage and the ability to be paired with all manner of shorts is just the tip of the iceberg. But of course the benefits don't stop there!
These socks were crafted with sportsmen in mind, combining a super comfortable anatomic fit with a softly cushioned sole for extra durability and support. And the fabric is, naturally, as lightweight and moisture wicking as they come. Only the best is good enough for FALKE.
Panos Emporio Organic Cotton Tennis Crew
Socks for the eco-conscious with sweaty feet
Panos Emporio was founded in 1986 and displays the best of Italian luxury clothing design. Obviously, these Tennis Crew socks are no exception to this rule and are an awesome choice for any of you who happen to be eco-warriors with a bit of a sweat issue…
In a ribbed, sporty design, with a minimalist logo, these white socks are a sleek and stylish statement piece. The organic cotton is, however, where they shine. They're super soft and comfortable (naturally), but also highly breathable - just what your sweaty feet need. 
They will allow your feet to bask in luxurious comfort, whilst keeping them sweat free in Italian style. The price point is high, but can you really put a price on saving the planet?
So what men's socks are best for sweaty feet?
We've covered quite the extensive list here, with options from athletic style to eco-warrior appropriate. If you have sweaty feet, any of these socks could be your new best friend.
FALKE should be your first stop if you're a fan of hard sports and find your feet get a little more moist than you'd like. 
Eco-friendly socks? Panos Emporio has you(and Mother Earth) covered. 
Puma is your one-stop shop for sweat-free feet on a budget, whilst if you want some athletic style, get some Tommy Hilfiger in your life. 
Calvin Klein's Drakes are awesome ankle socks that'll keep you cool with an underwear-inspired flair, and BOSS's bamboo Edward Socks are an amazing choice because… well, bamboo is just amazing really. 
But, BEFORE YOU BUY any of these sweat-busting socks, be sure to check out our helpful guide on finding the right sized socks for you - yes, finding the right size really does matter!
If this article has you curious about the unique benefits of each style of sock, then you should also check out this article on sock styles. 
Now, get some of these super socks in your cart and get those sweating feet under control! We believe in you...