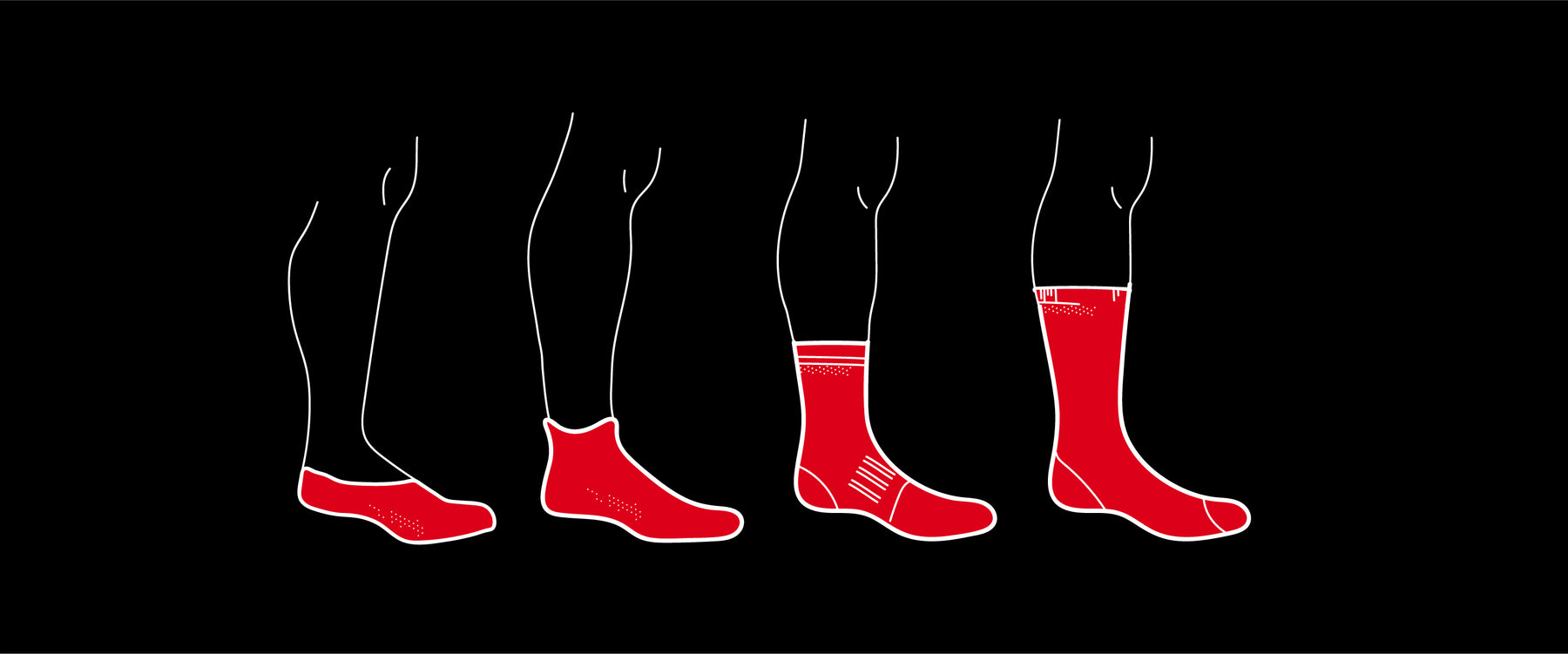 Types of Socks for Men: The Complete Style Guide
We at Pants and Socks believe strongly in two things: a well-cradled package supported by outstanding pants and the benefits that the soft caress of a well-made sock can bring to our industrious feet. 
Our feet really are the workhorses of our bodies. They carry us boldly into the unknown, support us through good times and bad, get used, abused, and often taken for granted. They're an essential part of what makes us human. In short, they deserve the best. 
A well-made sock is the key to treating your feet well. 
There are many different types of socks. Different sock lengths. Different sock materials. Different sock colours. Different fits for different purposes… Socks are more complex than we think.
Fortunately, we're here to clear this up for you and guide you, sage-like, through the wonderful world of men's socks in order that you find the most comfortable companions for your weary feet and prevent them from causing a literal stink (socks really do put in a lot of work). 
Men's sock lengths
What's that you say? Does the length of our socks really matter? Why, yes it does - and there are several key lengths to be aware of! 
From a no-show sock that lurks secretively below the lip of your shoe, to the longest of dress socks that proudly straddle the upper calf, socks were designed to provide comfort and protection for our glorious lower legs. Depending on the activity you're undertaking or the clothes that you're pairing your socks with, you may wish to adopt a certain length of sock to compliment your style.
Wearing shorts? Then you probably want a shorter ankle sock or a no-show sock. Business meeting? Pair your swanky suit with some dark trouser socks (or add a bit of colourful spice if you're looking to stand out from the crowd). Need some sturdier socks to see you through an energetic fitness session? Athletic socks are the way to go (and conveniently come in assorted lengths as well).
Now, length is important, but arguably more important are...  
Types of men's socks
There are several major sock types to be aware of, and these types often come in assorted lengths. So, let's dive in head-first and equip you with the knowledge to find that elusive 'perfect sock'. 
No-show socks
You guessed it: they're extremely short socks.
No-show socks are designed to be hidden from view at all times. They provide the comfort and protection of your regular sock, but don't distract from the style of your shoe. These are also good for warmer weather as they offer minimal coverage while warding off bad odours.
You won't typically find these secretive fellows in a variety of colours because they're designed to be invisible, so if you like to be an exhibitionist with your socks, these probably aren't for you. Nonetheless, they have become a staple of the modern gentleman's wardrobe.
Ankle socks
Unsurprisingly nestling themselves around your ankles are ankle socks. These can be seen above the lip of your shoe, but don't travel beyond your ankle, so they're also an excellent choice for when it heats up outside. They also don't distract too much attention from your shoes, but can be found in colourful varieties if you do want to add that bit of contrast and spice to your look. 
They're great to pair with shorts or trousers (depending on the look you're going for), or for a gym session and you don't want your legs to overheat. They come in a variety of thicknesses and strengths to suit your needs and, when all is said and done, ankle socks are highly versatile and should probably make their way into your drawers.
Crew and trouser socks
Now we're into longer sock territory with crew and trouser socks. There's not a lot in it in terms of length, but trouser socks tend to be slightly longer than crew socks. Both will sit around your mid-calf and essentially conform to everyone's idea of a 'sock' when we picture a nice pair of socks in our minds. 
They are the lords of versatility in the kingdom of socks.
You can roll them down to pair them with shorts or pull them up if your legs get chilly. They can be plain and pair excellently with smart trousers in a business setting or they can be colourful and stunningly eye-catching if you want to show off or show a bit of individuality. 
They're great for day-to-day wear and the undisputed starting point for any sock collection. If you don't have at least six pairs of crew or trouser socks, you're playing the sock game wrong and need to change your ways.
Athletic socks
Don't you just love how most types of socks are self-explanatory? But that won't stop us from diving into more detail and explaining them anyway - we can't shut up about socks today! 
If you're thinking about taking part in some daring sporting endeavour or engaging with a spot of other strenuous physical activity, then you're absolutely in the right place with athletic socks.
They come in a wide variety of lengths and styles to suit your needs, but tend to be made of a thicker material than your average sock. 
Not only does this help to absorb any sweat from your hard-working feet, but it also provides that touch of extra cushioning for harder impacts. And, of course, they tend to be slightly harder-wearing as well to put up with the stresses and strains of the sporting lifestyle. 
You can pair some ankle length athletic socks with shorts on a long run, cycle, or session in the gym. They come in a crew or trouser cut for pairing with… just about whatever you'd like to wear, really. 
They're also great for you outdoorsmen who enjoy a good hike or woodland ramble. That extra cushioning comes in very handy after many hours spent up hill and down dale. The thickness is also good for warding off nettles and other nasties when you're out in the wilds.
How to choose the right type of sock
We've discussed our sock varieties. We are now more knowledgeable than ever about socks. Now it's time to apply this knowledge in order to arm yourself with the best sock collection you can muster. 
Let's go through, step by step, how to choose the right sock for you and your sockly needs:
Step 1. What will you be doing in your socks?
Are you playing sports? Are you in the office? Are you on holiday? Out to lunch? On a date?
As we have discussed, each style and length of sock can be paired with the activity you're undertaking. Athletic socks are perfect for sports. Easy. Trouser socks are a great staple for the office or casual wear. Ankle socks and no-show socks are great with shorts…
This is the easy part, but essential to consider when narrowing down what style of sock is right for you and your needs. 
Step 2. What length of sock do you prefer?
Ok, so you've established you need some socks to hit the gym in. But what length should you choose? 
You could go down the standard middle-road and choose some trouser length. We've said it before and we'll say it again: they're just versatile as hell, so you need some!
But what if you prefer to work out in shorts? What if you overheat easily and you don't like a sock to be climbing high up your calves? 
Length is very important to consider, but it is definitely a personal choice. Try experimenting with different lengths of sock to find your preference!
Step 3. Pay attention to the material
While most socks are made of cotton, the feel and texture of the sock is very important and yet another personal preference to consider. You might prefer a thicker sock for warmth. If you overheat easily, a thinner material is probably right for you. Perhaps you simply enjoy the texture of one brand over another. This is where you need to experiment for yourself as there really is no right answer! 
Step 4. What's your personal style?
Many of us are proud of our shoe collections and want socks that will compliment them rather than steal the show. Many of us also love to stand out and create a bit of a talking point in the office when co-workers catch a glimpse of a patterned ankle peeking out from beneath the trouser hem. Others still prefer a practical, no-nonsense look. 
Whatever your personal style, there's a sock out there for you! 
No-show socks are always plain. That's an easy one. They're designed to be hidden, so you want them plain as possible. We'd recommend black for a clean look when your foot does leave your shoe.  
Ankle socks are usually plain black or white, but more colours are becoming available all the time as their popularity continues to grow. Try grabbing a variety pack and mixing and matching colours to suit your shoes.  
Athletic socks tend to come in more block, muted colours or plain designs, perhaps with some stripes for a classic look.  
Trouser socks come in every possible colour, pattern, or design. Like we've said: the kings of versatility.  
So, what sock is right for you?
While socks are often overlooked, they are an essential part of any man's wardrobe. 
You are now equipped with the knowledge and wisdom to stride proudly into the world of socks with your head held high, a goal in your mind, and the ability to procure for yourself the most regal of sock drawers imaginable! 
Experiment with different brands, styles, and materials to find the right socks for you and treat your feet well! They definitely deserve it.